Custom Landscaping Design Services in WI
With Pewaukee Tree Care, you can design and create the outdoor living space of your dreams. Our passionate team loves helping clients bring their visions to life with custom landscaping services. We can install a variety of features, including patios, walkways, seating walls, fireplaces, and gardens. We also provide several eco-friendly services, such as native plant installation, bioswale development, and land restoration management.
We love collaborating with clients to maximize the aesthetic beauty and functionality of their properties. We are happy to provide guidance on how to plant both trees and flowerbeds properly. As tree care specialists, we will ensure that any decisions you make are suitable for the local ecosystem. We will also help you avoid costly mistakes and plan for the future. By involving Pewaukee Tree Care, you save yourself significant time and guarantee that your landscape will be designed to its fullest potential.
To learn more about our custom landscaping services, contact our team today. Though we're based in Pewaukee, we offer our expert landscaping design services in multiple cities including, but not limited to, North Lake, Merton, and Lac La Belle, Wisconsin. Working with Pewaukee Tree Care is the best investment you can make for the exterior of your home or commercial business.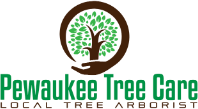 Pewaukee Tree Care
HOURS:
Monday : 8AM–5:30PM
Tuesday : 8AM–5:30PM
Wednesday : 8AM–5:30PM
Thursday : 8AM–5:30PM
Friday : 8AM–5:30PM
Saturday : 9AM–12PM
Sunday : Closed
PHONE: