Stump Grinding & Removals
Stump Grinding and Removals
---
Frustrated with a stump in your yard? We can help. Don't risk injury or waste time trying to get rid of the stump on your own. Instead, let us take care of your problem for you.
We have the tools to grind or remove stumps completely depending on your preference and the surrounding circumstances. In general, grinding is a more cost-effective way to remove a tree stump from view. However, this approach leaves roots in the ground, which will decay over time.
Your alternative is a complete stump removal, which isn't always feasible. Tree stumps located too close to buildings may have root systems that are embedded into property foundations. Tree removals are also more costly as they are far more labor-intensive than stump grinds.
Contact Pewaukee Tree Care to speak to a professional arborist who can help you determine which method is best for your situation. Factors such as the condition of the soil, the state of the root system, and the size of the stump will impact the approach. Call us today to set up an initial consultation.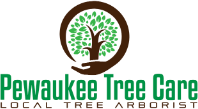 Pewaukee Tree Care
EMAIL:
HOURS:
Monday : 8AM–5:30PM
Tuesday : 8AM–5:30PM
Wednesday : 8AM–5:30PM
Thursday : 8AM–5:30PM
Friday : 8AM–5:30PM
Saturday : 9AM–12PM
Sunday : Closed
PHONE: